We are delighted to be one of the sponsors of the Royal Academy's latest exhibition: 'Jean-Etienne Liotard 1702-1789' which opens on the 24th October. Liotard was born in Geneva but travelled widely; he trained in Paris, visited: Italy, Constantinople, Jassy (in present day Romania), Vienna, London and the Netherlands. This peripatetic life in part reflected the conventional demands of a court painter and in part a result of his relationship with wealthy British travellers. He met William Ponsonby, Viscount Duncannon in (later 2nd Earl of Bessborough) in Italy and travels with him, and John Montagu, 4th Earl of Sandwich to the Levant. Liotard spent two periods in London; firstly in 1753-4 when he established a profitable and successful portrait practice and secondly in 1773 when he exhibited at the Royal Academy and organised a sale of his collection at Christie's. Liotard's British connections were important and professionally sustaining. His relationship with the 2nd Earl of Bessborough continued throughout his life and the exhibition contains a number of works from the Bessborough collection including the charming portrait of Frederick Ponsonby, which Liotard showed at the Royal Academy in 1773.
We have sold a number of works by Liotard over the years, including his hugely important pastel portrait of Henry Fox, 1st Lord Holland which had been commissioned by Horace Walpole in 1753 and hung at Strawberry Hill. We currently have a very rare impression of a mezzotint made by Liotard at the end of his life entitled La Venus aux belles fesces published in 1780. Liotard made only fifteen prints, two thirds of which date from between 1775 and 1780; four were mezzotints. The pure mezzotint shows the so-called Callipygian Venus from behind. The plate makes it clear that Liotard was working from a plaster cast – 'platre moulée' – rather than the Roman sculpture, then in the Farnese collection. The print was made after a pastel dated 1774 made whilst he was in London. This raises the possibility that the cast was in a London collection, possibly the one in the Duke of Richmond's cast gallery which was used by members of William Shipley's academy.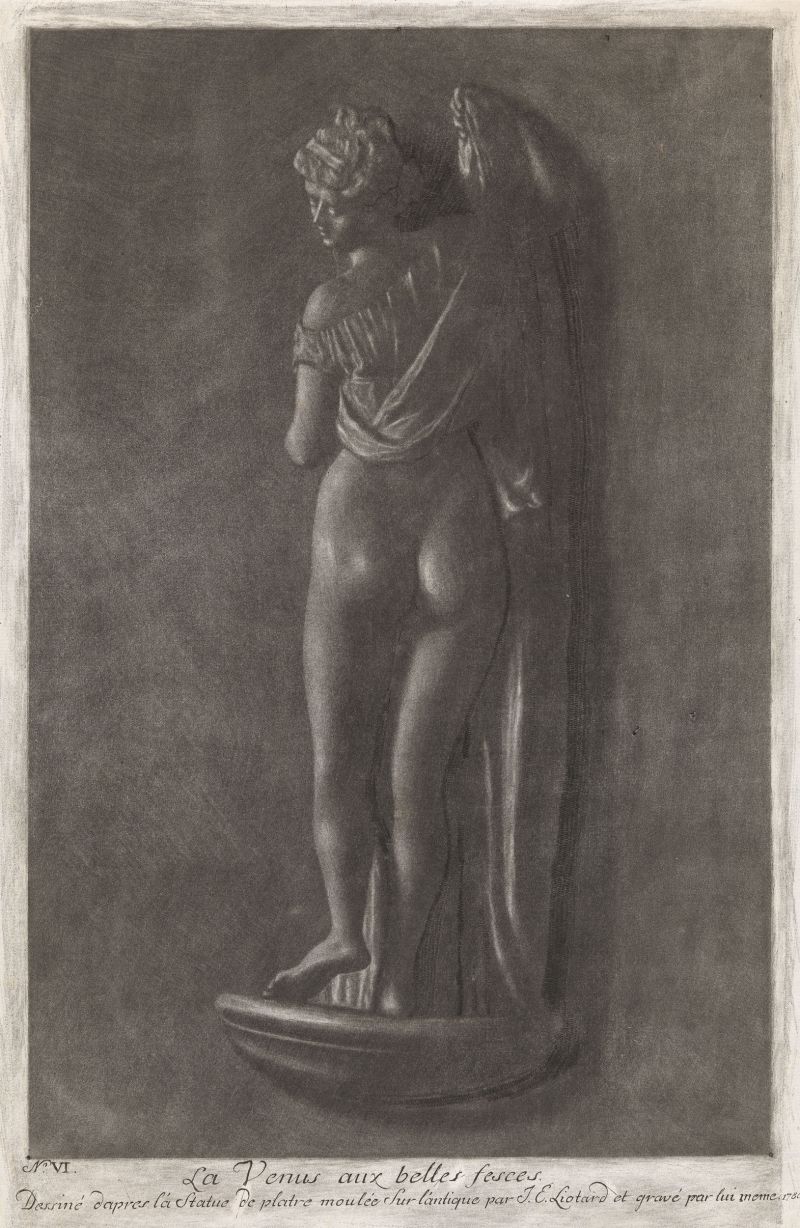 We also have a small piece of Liotard ephemera which is of some importance and has recently been published by Neil Jeffares on his blog. The 1745 receipt for Liotard's greatest genre picture, his La Chocolatière, now in Dresden. It was purchased by Count Francesco Algarotti, the anglophile art collector and critic, from Liotard whilst he was in Venice. The receipt is for 120 sequins, or the equivalent of £60.